APP INDIA Management Consultancy Services Pvt. Ltd. specializes in the advanced technology that brings simplicity to growing complexity.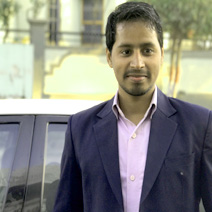 A seasoned management team directs APP India's fast-paced growth. Together, the team has significant management experience in high-growth organizations and the combined experience of five successful start-ups.
APP India's management team is also responsible for attracting and retaining a professional workforce that meets the highest standards, and for providing a rewarding environment to its employees.
Be it skills required for web technologies or for client server applications, AIMCS can understand what it takes to get the right blend of solutions and more importantly how to get them working for you.
We provide rapid development of web-based applications including vision, architecture, design, development and deployment of flexible and scalable e-business solutions.
Programming Skills - APP India employs top of the line specialists who deliver solutions with a keen sense of quality and time management.
Pavanjay Kashyap
(Business Development Executive)
As BDE and co-founder of APP INDIA Pavanjay is responsible for the management and stratgies of the company.
He holds a B.Tech. degree in INFORMATION TECHNOLOGY.
Under his leadership, APP India has experienced tremendous growth quarter after quarter and has increased its employee base to over 20 employees in less than 3 months.
Pavanjay actively involves himself with:
With 5 years of experience in various industry Pavanjay serves as a Chief Operating Officer of AIMCS Pvt. Ltd., Pavanjay is directly responsible for the management, growth and success of APP India's technology operations. During his tenure, He has significantly developed APP India's Product Development and E-Commerce divisions into high quality organisations - ensuring that APP India's continues to remain within the global IT revolution.
Notable among his many accomplishments,He is significantly contributed to the company's overall business strategy.