Cataloguing an intense and growing portfolio of cutting edge, innovative smart phone based, enterprise and entertainment application, AIMCS has leveraged its mark as an International mobile solutions provider for the Retail, Logistics, Banking and Payments, Entertainment, Gaming, Public Services sector, Fashion and Apparel, Telecom Research and Development companies.
AIMCS has emerged as the top solutions provider for iPhone, IPad, Android, BlackBerry, Windows Mobile, and J2MEplatforms.
What we do:
AIMCS builds world-class, applications customized to client specifications for platforms such as iPhone, Android, iPad, BlackBerry and Windows Mobile. Our programmers and designers are honed with around 3+ years of industry expertise, leveraging the latest development tools and techniques in every aspect of the project.
portfolio sneak peek:
Our team of iPhone, iPad, Android, Windows mobile and Blackberry programmers can make your basic concept turn into full fledged reality, in a lesser turnaround time.
Have a sneak peak of what we have produced for our customers across the globe.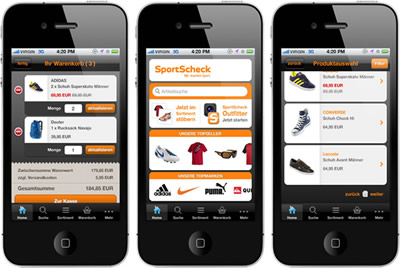 The screens on the right show a "Mobile Retail Store Front" developed by us for a Europe based Retail giant.
This application was developed for both iPhone and Android platforms.
The application allows users to browse, search, view, sort, filter products on the move. It is integrated with social media like facebook, twitter to enable customers to write comments and communication via an email link.